Posts: 322
Joined: Thu Aug 13, 2009 2:12 am
Location: Hull, Yorks
---
Global Moderator

Posts: 4063
Joined: Thu Feb 19, 2009 12:58 pm
Location: East Yorkshire
Contact:
Oooh that's really sweet. I can see a few of them flying off the needles around here
---
Lovely idea, thanks for sharing
Latest FOs
:
Oxford Circus Shawl; Simplest Sweater
Me on Rav
...
Stashdown count: Used 0, bought 18. Running total = +18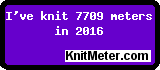 ---
Posts: 35
Joined: Tue May 17, 2016 9:13 pm
That's really cute.
Here
's another nice gift for fellow knitters.
---
---
Who is online
Users browsing this forum: No registered users and 2 guests