sweetpea wrote:STOP IT NOW
But but I still have many tasty recipes left... You don´t like sweets?
DON'T KNIT AND DRIVE . . . . . you could drop a stitch!
---
I've had to stop coming onto the forum because you're tempting me to abandon the knitting in favour of the kitchen, but sweetpea has been emailing me asking if I've seen all this temptation. Regrettably I don't have a fully stocked larder otherwise I'd be needing an appointment with the dentist by now.
---
Ooops...
Sorry I didn´t realise that my posts might have such bad influence for regular knitting. Hopely you (and other members) can forgive me. Knitting should come first.
But few more of those little temptations sometimes aren´t too bad, ok?
DON'T KNIT AND DRIVE . . . . . you could drop a stitch!
---
saliha wrote:

sweetpea wrote:STOP IT NOW

But but I still have many tasty recipes left... You don´t like sweets?
I LOVE sweets and biscults
There are too many to choose from. Im only pulling your leg, please keep putting all of your lovely recipes on
---
Ok... These ones I have made too. Easy and fast, simple ingredients.
Oatmeal-chocolate balls
(40–50)
100 g soft butter
1 dl (100 ml) sugar
2 tablespoon cocoa powder
1 tablespoon vanilla sugar
4 dl (400 ml) oatmeals
3 tablespoon apple juice
Frosting
200 g milk chocolate
1. Froth butter and sugar lightly together. Mix cocoa powder, vanilla and oatmeal together. Add to butter-sugar with juice.
2. Shape little balls. Put them to fridge for 4 hours to over night.
3. Melt chocolate.
4.a) Roll balls by two teaspoons in chocolate and move them to baking paper. Let them be in fringe over night. Store them in cool place before serving.
4.b) You can also roll balls in coconut flakes. Do it immediately when you have shaped them as balls and put them to fridge after that.
Or you can decorate them also like:
Or use icing sugar, cocoa powder, crushed nuts, almond flakes...
Coated with chocolate:
DON'T KNIT AND DRIVE . . . . . you could drop a stitch!
---
Yum yum and an extra yum
---
Simple Chocolate truffles
Chocolate truffles, beautifully wrapped in boxes, will put a smile on anyone's face
•280g good-quality dark chocolate, 70% cocoa solids
•284ml pot double cream
•50g unsalted butter
•extracts (optional)
•nuts, coconut etc. to coating (optional)
1.Chop the chocolate and tip into a large bowl. Put the cream and butter into a saucepan and heat gently until the butter melts and the cream reaches simmering point. Remove from heat, then pour over the chocolate. Stir the chocolate and cream together until you have a smooth mixture. Add any flavourings to the truffle mix at this stage (divide the mixture between bowls and mix in extracts or other flavourings, a tsp at a time, to taste. Like the peppermint extract or the zest and juice of an orange or leave plain. Cool and chill for at least 4 hrs.
2.To shape the truffles, dip a melon baller in hot water and scoop up balls of the mixture, then drop the truffles onto greaseproof paper. Or lightly coat your hands in flavourless oil (such as sunflower) and roll the truffles between your palms. You could also use a piping bag to pipe rounds onto greaseproof paper.
3.Coat your truffles immediately after shaping. Tip toppings into a bowl and gently roll the truffles until evenly coated, then chill on greaseproof paper. Try: crushed, shelled pistachio nuts; lightly toasted desiccated coconut; or roll a truffle flavoured with orange zest and juice in cocoa powder. To coat in chocolate, line a baking tray with greaseproof paper. Melt 100g milk, dark or white chocolate for 10 truffles. Allow chocolate to cool slightly. With a fork, pick up one truffle at a time and hold over the bowl of melted chocolate. Spoon the chocolate over the truffle until well-coated. Place on the baking tray, then chill.
4.Store in the fridge in an airtight container for 3 days, or freeze for up to a month. Defrost in the fridge overnight. To give as presents, place 8-10 truffles in individual foil or paper cases inside small, lined boxes tied with ribbon. Keep in the fridge until you're ready to give them (or eat them).
Source:
http://www.bbcgoodfood.com/recipes/1826 ... e-truffles
DON'T KNIT AND DRIVE . . . . . you could drop a stitch!
---
Triple Chocolate Party Balls
Serves: 20
Ingredients
•3 cups crushed shortbread cookies
•2 cups powdered sugar
•¼ cup corn syrup
•½ cup chopped pecans (optional)
•¾ cup chocolate chips or chocolate bar, finely chopped
•⅓ cup cocoa powder
•½ cup liqueur of choice (like coffee)
• melted chocolate for dipping
Instructions
1.Mix dry ingredients. Add wet ingredients. Mix well until a "dough" forms.
2.Freeze dough for 30 minutes, or until hard enough to form balls. Break off small pieces and roll between your palms until you have lots of small truffle-sized balls. Re-freeze until ready to dip.
3.Melt chocolate candy coating in a double boiler. Dip each frozen ball in the chocolate. Set to dry on wax paper.
https://under500calories.com/recipe/9fa ... arty-balls
DON'T KNIT AND DRIVE . . . . . you could drop a stitch!
---
---
Raisin truffles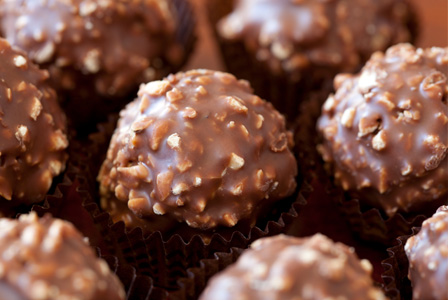 Yields:
30
Ingredients:
•1/2 cup raisins
•2 tablespoons orange juice
•8 ounces semisweet chocolate chips
•1 tablespoon butter
•1/2 cup warmed whipping cream
•1 egg yolk
•3/4 teaspoon pure vanilla extract
•1 cup of finely chopped walnuts or 1 cup of unsweetened cocoa powder or about 8 ounces melted chocolate
Directions:
1.Coarsely chop the raisins in a food processor along with the orange juice, and then set aside. Melt the chocolate and butter in a heavy saucepan over low heat.
2.Combine the whipping cream, egg yolk and vanilla over low heat, and then gradually blend this into the chocolate mixture. Stir in the raisin mixture.
3.Place the mixture (while in the pan) over ice water in a bowl. Stir the mixture until it's completely cool and slightly thickened. Beat it for about 30 seconds. Cover and refrigerate the mixture until it's firm.
4.Once firm, form the mixture into about 30 small balls, and then roll them in either the cocoa powder or chopped walnuts.
5.If you'd like to dip the balls in melted chocolate, first refrigerate them until they're chilled. Melt the chocolate and dip them using a wooden skewer or toothpick, one at a time, so all sides are covered. Place them on waxed paper to set.
Source:
http://www.sheknows.com/food-and-recipe ... n-truffles
DON'T KNIT AND DRIVE . . . . . you could drop a stitch!
---
---
Who is online
Users browsing this forum: No registered users and 4 guests