---
Love the bright coloured hat and socks, bet you'll be nice and cosy in this cold weather.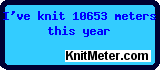 ---
Argh what am I thinking TinCanKnits over on Ravelry has just started a 12 in 15 challenge... For sweaters, luckily they can be baby sized so I might just make it through.
---
Supporter
Posts: 591
Joined: Tue Jun 07, 2011 4:52 pm
Well done everyone, some super knits there, I 'was' going to join you, but when I got missed off it wasn't too much of a worry as I knew I was in for surgery this month, so time would have been a problem
I am home now, son picked me up tea time, and to say I'm sore is an understatement.
I'll catch up with you on another challenge or knitalong
OTN
---
Awwww sorry to hear that Five...hope you on the mend soon, look after yourself please keep popping in cos need those tips of yours to rescue the moment!
---
Posts: 1962
Joined: Thu Feb 19, 2009 4:55 pm
Location: Kent
Contact:
Sorry five in hand if you thought you were missed off the list but no one makes the list until they actually post a picture up here anyhow, so its down to the last few hours to see if anyone gets any more posts in before midnight
---
Hope you feel better soon
---
---
Who is online
Users browsing this forum: No registered users and 3 guests