I got
this
a few weeks ago, and gave it whirl tonight. Here are the results: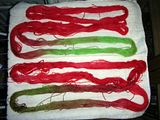 It wasn't as scarey as I thought it would be, but was more messy. I defy anybody to do this and not get dye all over their hands. I managed to do just that when I was pouring the powder into a bottle! Whoever drinks this stuff must have multicoloured mouths!
There are two skeins; I used one packet of strawberry and half a packet of lemon/lime on each. I realised now I used too much water though. And also had the worst cling film known to man. It didn't stick to itself too well. Serves me right for buying cheapy stuff! The green in the bottom one is a bit mucky, I'm blaming that on the cling film. Overall, for a first attempt, I'm pretty pleased with it.
I'm going to knit this into the bag pattern that was in the kit. It then has to be felted, which I also haven't done before! I chose these colours because I thought they'd stand out well after felting. I'll post some photos when it's done.
Lynne